"Strange Adrenaline" Vinyl by Nat Vazer [Australian Import] - Orders close 11/17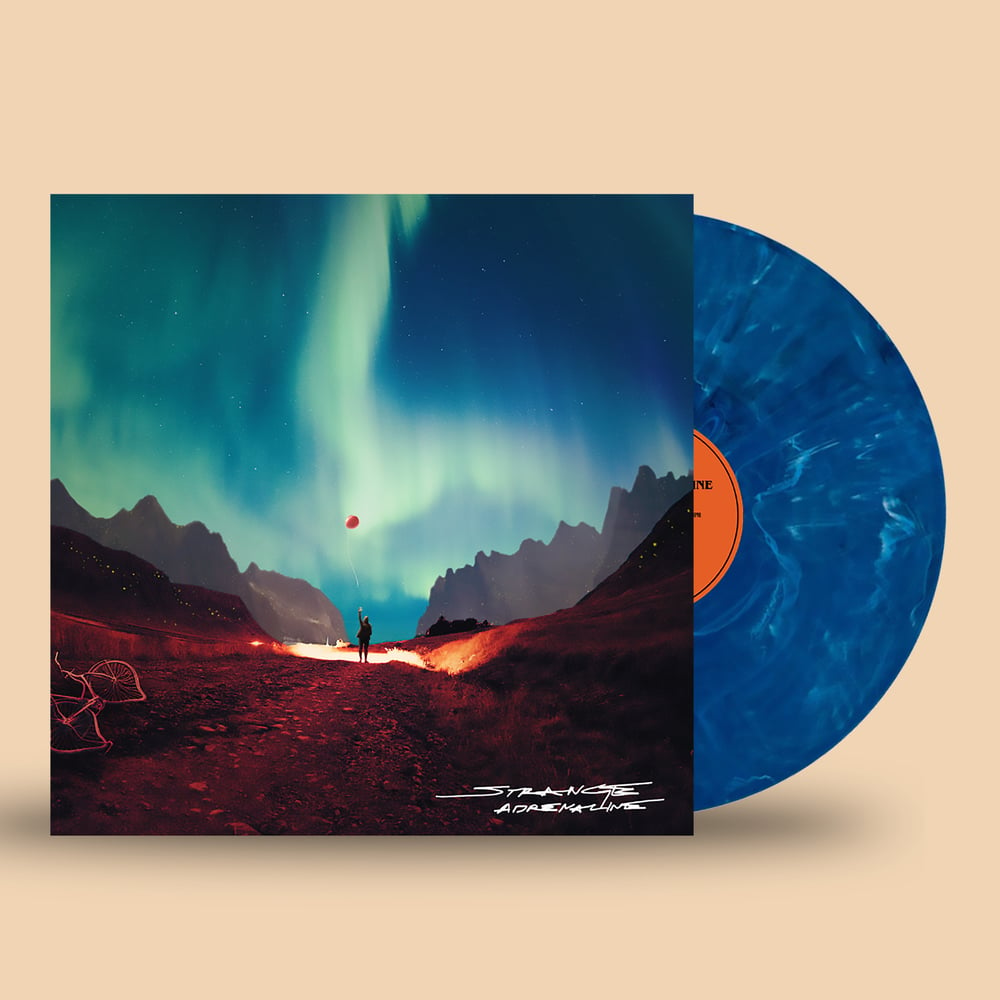 You can now pre-order Nat Vazer's critically acclaimed new album, 'Strange Adrenaline,' in the U.S. via Perpetual Doom. Limited edition Australian import Northern Lights Blue Marble Vinyl and Deluxe CDs are available. A limited number of signed editions is also up for grabs. Act fast, as these will sell out. To secure your copy, be sure to place your order before November 17th. We will only import enough copies from Australia to fulfill existing orders.
New album 'Strange Adrenaline' from Nat Vazer on Limited Edition 12" Vinyl in Northern Lights Blue Marble with printed inner sleeve. Will be shipped in December/January.
A limited number of signed copies are available.
[Australian Import]
Strange Adrenaline, Vazer's second full length album is a kaleidoscope of 'unique stories told through the people, places and memories that have shaken me and stayed with me over time' says Vazer. Following her debut at SXSW and NYC's New Colossus Festival earlier this year and headline tours on the East Coast of the US, she is gearing up for the release with her Bigsound 2023 debut this September.
Through her vehicle of folk storytelling, Nat Vazer drives through carefully fashioned sonic landscapes, new realms written on piano, and her viscerally brilliant combination of dream pop and indie rock, "Strange Adrenaline' is like a fast car on a lost highway - forever hungry, forever searching," states Vazer about her upcoming LP. Featuring previously released singles 'Born', '2am Diner', 'Strange Adrenaline', 'Addicted To Misery' - a track triple j's Ash McGregor described "could destroy my soul and rebuild it at the same time", and current single and album opener 'Rumours', Strange Adrenaline is layered with unassuming arrangements and lyrical introspection, building the different worlds anchored to each song "writing this album was like looking inward to find the child inside again, and reaching outward for something beyond me." - Nat Vazer.
Capturing the hearts of audiences around Australia and the world, Vazer has supported Vacations, Last Dinosaurs, The Magic Numbers, Jaguar Jonze, #1 Dads, toured with Lime Cordiale and Kingswood and has joined the festival lineups of Kyneton Music Festival, St Kilda Festival, Summersalt and more, and a packed few months of live shows earlier in the year including her debut US shows at SXSW, New Colossus Festival (New York City), and WFNM in Los Angeles. Vazer's 2020 debut album 'Is This Offensive And Loud?' went on to be nominated for The Australian Music Prize and was listed in several best-album-of-the-year lists including NME Australia and The Musician, alongside a nomination for Best Breakthrough Artist at the Music Victoria Awards.
Enter this new creative dimension of Nat Vazer's musical worlds as she questions both the theoretical and existential', - "Passing through a field of stars, ever wonder what you are" - Nat Vazer.
Tracklist:
1. Rumours
2. Strange Adrenaline
3. Addicted to Misery
4. Maniac
5. 2am Diner
6. Born
7. Like A Burning Violin
8. Wilsons Prom
9. Fading From The Party
10. All That's Left is Love
Press:
"'Strange Adrenaline' is a beautiful and thrilling second album from Vazer. It moves from a folk based contemplative base to something brilliant and incandescent at parts - all polished by Vazer's incredible vocal range that positively shimmers like a mirage in the hot desert." - Backseat Mafia
Nat Vazer's new album "recalls contemporaries like Alex G, Soccer Mommy, and Harrison Whitford with its dense storytelling and contemplative brushstrokes." - Rolling Stone
"Nat Vazer's Strange Adrenaline is so exceptional that you'll instantly wanna share it." -Beat Magazin