"Gary Owens: I Have Some Thoughts" Vinyl by Graves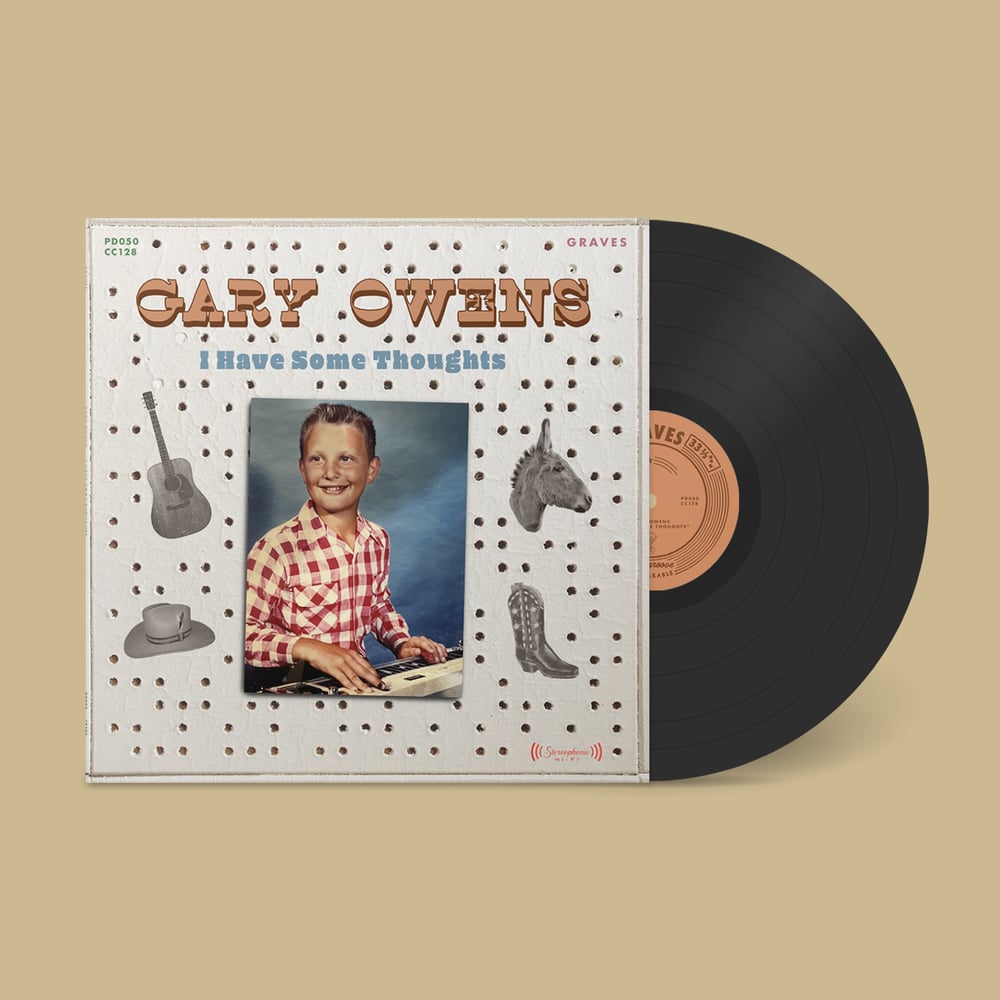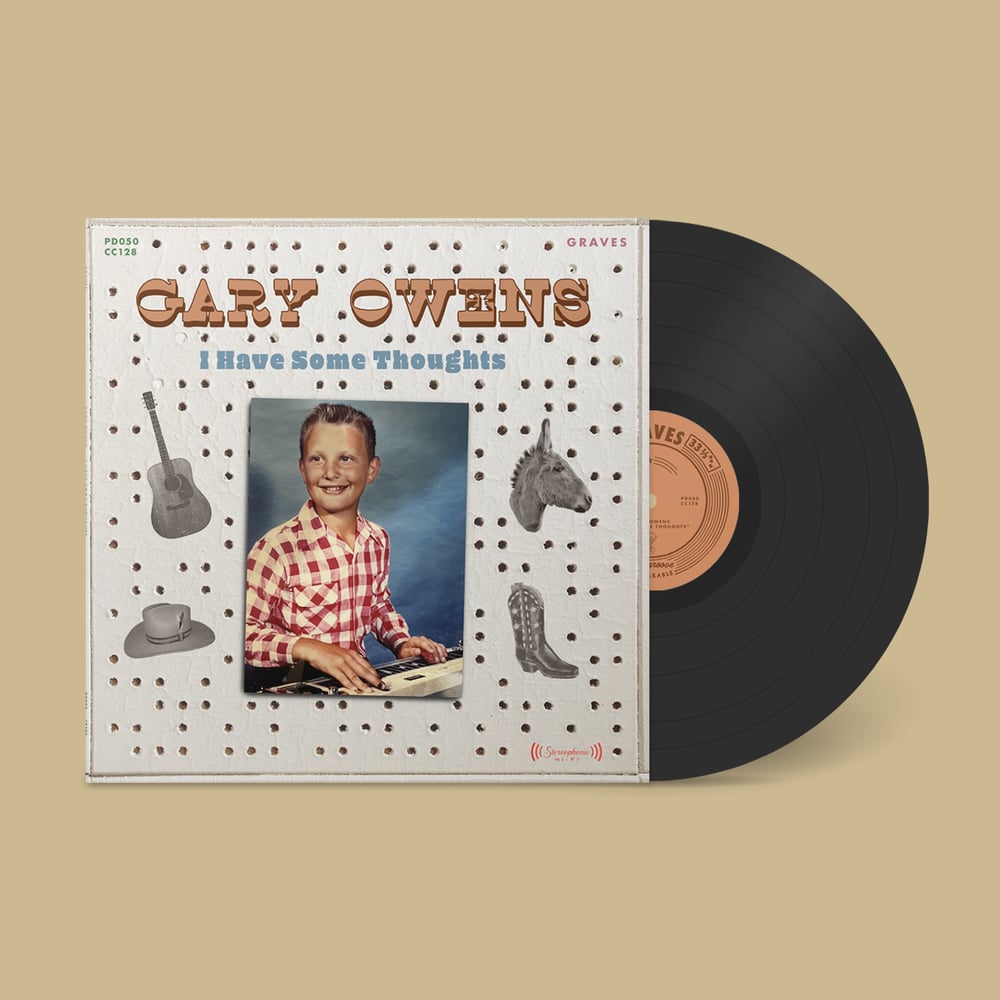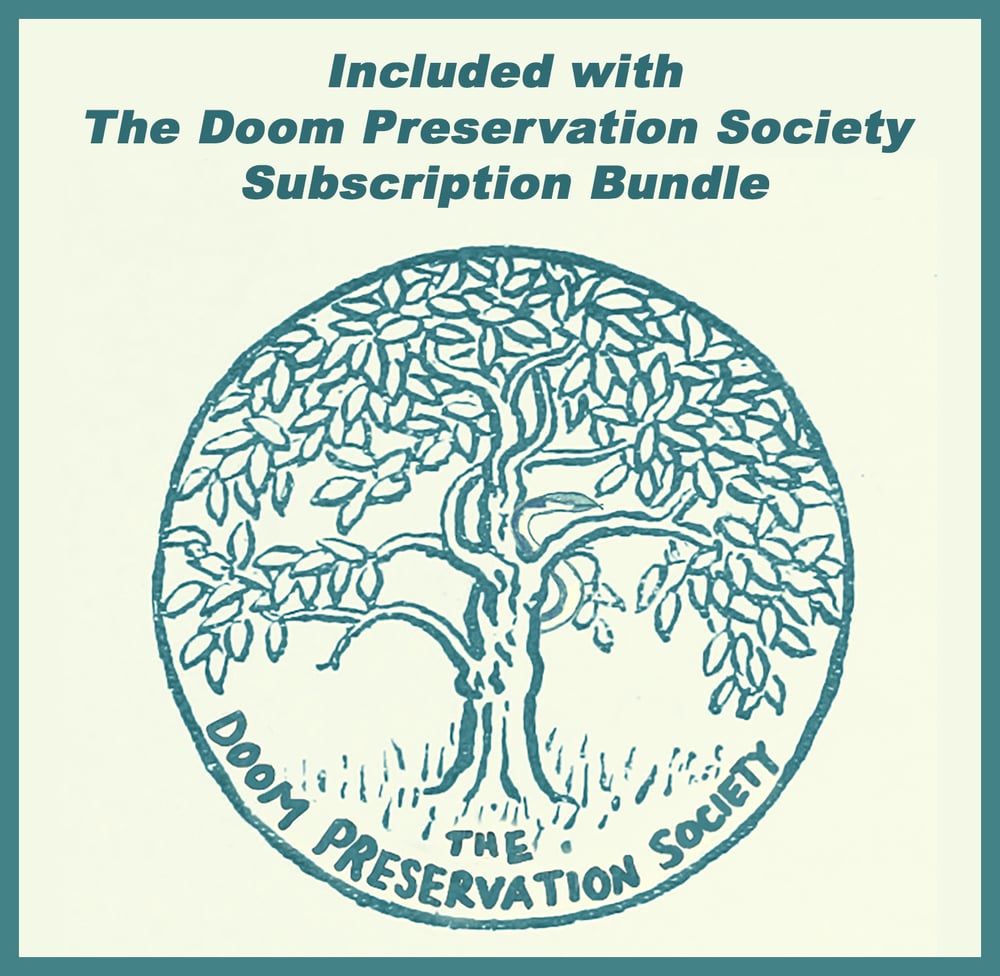 Perpetual Doom and Curly Cassettes are proud to announce the new collaborative release from Graves: Gary Owens "I Have Some Thoughts." Graves is the project of California's Greg Olin, who has been releasing music under the moniker for nearly two decades. And for his latest release, he takes a new name—is Gary Owens that smiling young man with the lap steel on the album cover?—to breathe fresh life into an old, old sound. These sixteen tracks sway with the moonstruck sweetness of classic country, blending the sounds of golden age AM radio with a laidback West Count vibe.
Gary Owens "I Have Some Thoughts" is all about that bittersweet feeling of days gone by. "Dopey-eyed on a moonlit shore" is how Olin puts it on "Time Wasted," a soft-strummed ballad reminiscent of the Nashville sound of Roger Miller and Merle Haggard. Many tracks feel plucked from that simpler time, from the upbeat downer "Cavin' In" to the kitschy fun of "Atchee Ketchee" where he stumbles nonsense lines before finally singing, "I just wanna find the words to say I love you." Olin recorded half the record during the pandemic, and he describes the process, slowly building tracks, waiting for collaborators to send their parts, as one of excitement, "like always waiting for a check or fresh pair of socks to arrive in the via snail mail." Graves blends the mellow with the slightly sour, addressing aging and mortality in clever ways on songs that recall the best of David Berman's Silver Jews and Purple Mountains projects. The harmonica and close harmonies of "Keep You From the End" find him struggling to reconcile with change and mortality, a question that finds an appropriate metaphor nestled in gentle keyboards on "Bad Teeth & Bad Wine."
Recorded alongside Nick Aives (Sonny & the Sunsets, Ty Segall, Vetiver), Cory Gray (Delines, Dandy Warhols, Old Unconscious) Rusty Miller (Sonny & The Sunsets, Kelly Stoltz) and Jason Cirimele (Sugar Candy Mountain, Guantanamo Baywatch), Gary Owens features great new songwriting from a legendary indie musician, tackling time, love, and sadness with poise and a little humor. Olin captures the mood perfectly on lead single "Little Dumb Dogs" when he asks, "What's a bird to do but fly away?" Then he adds, just for good measure: "Cuckoo, cuckoo."
Included with The Doom Preservation Society Subscription Bundle
More about Graves: Click Here.
12" Limited Edition Classic 140g Black Vinyl LP of "Gary Owens: I Have Some Thoughts".
Edition of 200.
Tracklist:
1. Little Dumb Dogs
2. Woo A Fool
3. Cavin' In
4.Direct Light Sun
5. Weather the Hard Times
6. Great Divide
7. Keep You From the End
8. Bad Teeth
9. Achee Keetchee
10. Maybe We Just Get That Pig
11. Sugar
12. Time Wasted
13. Puzzle Song
14. Where Goes All The Love
15. Book Song
16. Exit Light
Release Date: June 30, 2023
released by:
Perpetual Doom
release/catalogue number:
PD050
"Little Dumb Dogs" Official Video Here: Watch